Drilling Process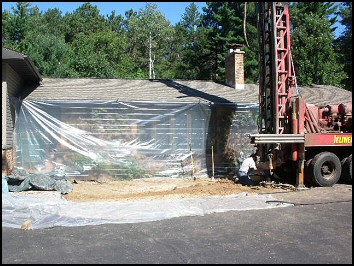 After a site is chosen for a new well, our crew will set up the drill rig and start by sliding in the first drill rod with the bit inside the first length of casing. It is then picked up with the winch line and the drill rod is connected to the top head. A hardened, forged drive shoe is welded on to prevent damaging the casing end. The top head is engaged, the compressor turned on, the casing hammer is set on top of the casing and the well drilling starts. As the carbide-tipped tri-cone bit is drilling, high volumes of air are blowing cuttings up the casing and out the chute of the casing hammer. The drill bit is drilling one to two feet ahead of the casing while the 2500-pound weight of the casing hammer pushes the casing in the newly drilled hole.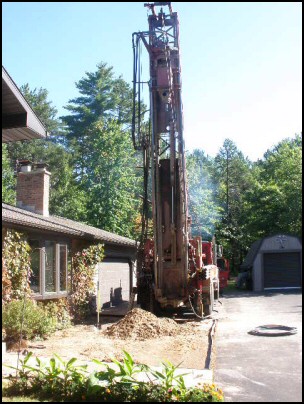 As new casing is welded on, the ground can be checked to see where the static water table is. When hard formations are encountered and the casing won't follow, then the air-operated casing hammer is fired to drive the casing ahead. In clean sand aquifers, when there is enough depth in the water table to meet codes and water volume requirements, the drill rods are pulled and a screen is set. In gravel aquifers, water will start gushing out from the air compressor and the well is developed out. With this well drilling method, we can see every inch of ground we drill through and cannot "miss" any water. Through our experience we can also get a good idea of the iron content by visually looking at the color of the sand coming out the chute while drilling. If the water has high iron and there is a possibility that there may be better water deeper, we will contact the owner or contractor.
When the well is completed, our pump crew completes the hookup to the home. We bury the pipe below frost level, set the submersible pump in the well and set the pressure tank. We take a sample and send it to a lab for a coliform bacteria test. We will mail you a copy of your well report and test results from the lab.
To view pictures of the Drilling process, click here to visit our photo gallery.